Our technicians have the skillset, knowledge and professional expertise to make sure your commercial project comes out with the right colors and quality to match your business and brand. We have experience with commercial projects including: office buildings, retail outlets, property condominiums, apartments, etc. We will make sure to get the project done, on time and on budget.
Our team will minimize any disruption in your office building or facility. If required, our team will focus only a section of your building at a time, so your business can run as smooth as possible.
Representing Your Business and Brand!
Our team is dedicated to making sure that your business and your brand is represented with the highest of quality looks. We will begin with a power wash of all surfaces to clean and remove loose paint, mildew and mold. Then our team will prep, prime, and paint any surface areas with high quality paint supplies. We will focus on scraping, patching and sanding all eaves, fascia and wood siding areas. 
Our team will then paint all the trim, windows, main doors, facility doors and any other odds/ends to give it your office building the finishing touch. Finally we will focus on all of your exterior wrought iron, covers, fences, gates and other specialty surfaces to make sure they match/compliment your external building. Our goal is to give your business the professional touch that inspires your customer's confidence in your services!
Making sure your business matches inside and out!
Our team has experience with prime all patched and textured areas in the office. We can paint walls and ceilings with high quality paint in desired sheen, including: flat, matte, eggshell, satin, semi-gloss or hi-gloss paints. Team members will apply two coats of paint, to make sure the job will last a long time. We can also make sure that any woodwork in the office is properly stained or painted to match the rest of the office look.
We will put the finishing touch by painting doors and trim with semi-gloss, hi-gloss enamel acrylic or oil finish, and patch any holes, cracks and all imperfections on walls and ceilings. We make sure that our job matches the high quality of your business.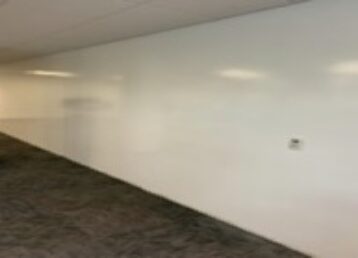 Chalkboard & Whiteboard Walls
Create a Chalkboard or Whiteboard Wall in the office!
Are you running out of room for writing notes and/or doing office brainstorming? We have the solution for you with your very own Chalboard or Whiteboard wall for the office. We can help you to setup an entire wall or specific area for office presentations and conference sessions. If you want to convert a wall to either a chalkboard or a dry erase board, we can coat it in clear finish or change the color of the wall.
Why Choose Us?
Our goal is to make sure that your home is the talk of the neighborhood. The professionals at Rogelio Llamas Painting want to take care of your home just like it is ours. Our goal is to make sure that we take care of our clients and make their home stands out for the right reasons! If you would like a free consultation, call us today!