Whether you want to give your home a whole new look or you want to freshen it up without breaking the bank, an interior paint job can make your home look and feel new again. Give Rogelio Llamas Painting a call, for your FREE consultation today!
Stunning painting, inside and out
You can turn to just one team for all of your painting needs! Your home or business' interior space will be more beautiful when you invest in quality work from our fully licensed crew. Call us today!
From bedrooms to kitchens, rely on the team with more than 15 years of experience. We offer a satisfaction GUARANTEE!
Cabinets, doors, and even crown molding can benefit from either a new staining or custom painting. While a new staining helps make wood surfaces look rich and glossy, a new new custom painting can revitalize any wood surface in your home.
Re-stain or re-paint the wood of your cabinets and revitalize your home's interior! Trust us to perfect your kitchen, bathroom, or other room by carefully giving a brand new look and feel for your cabinets. You'll get the high-quality look you've always wanted for your home.
Don't forget that elegant wood staircase can make a huge difference in the appearance of your home's interior. When age and wear/tear have taken their toll, you can count on us to undo the damage! We'll bring back your staircase's classic shine.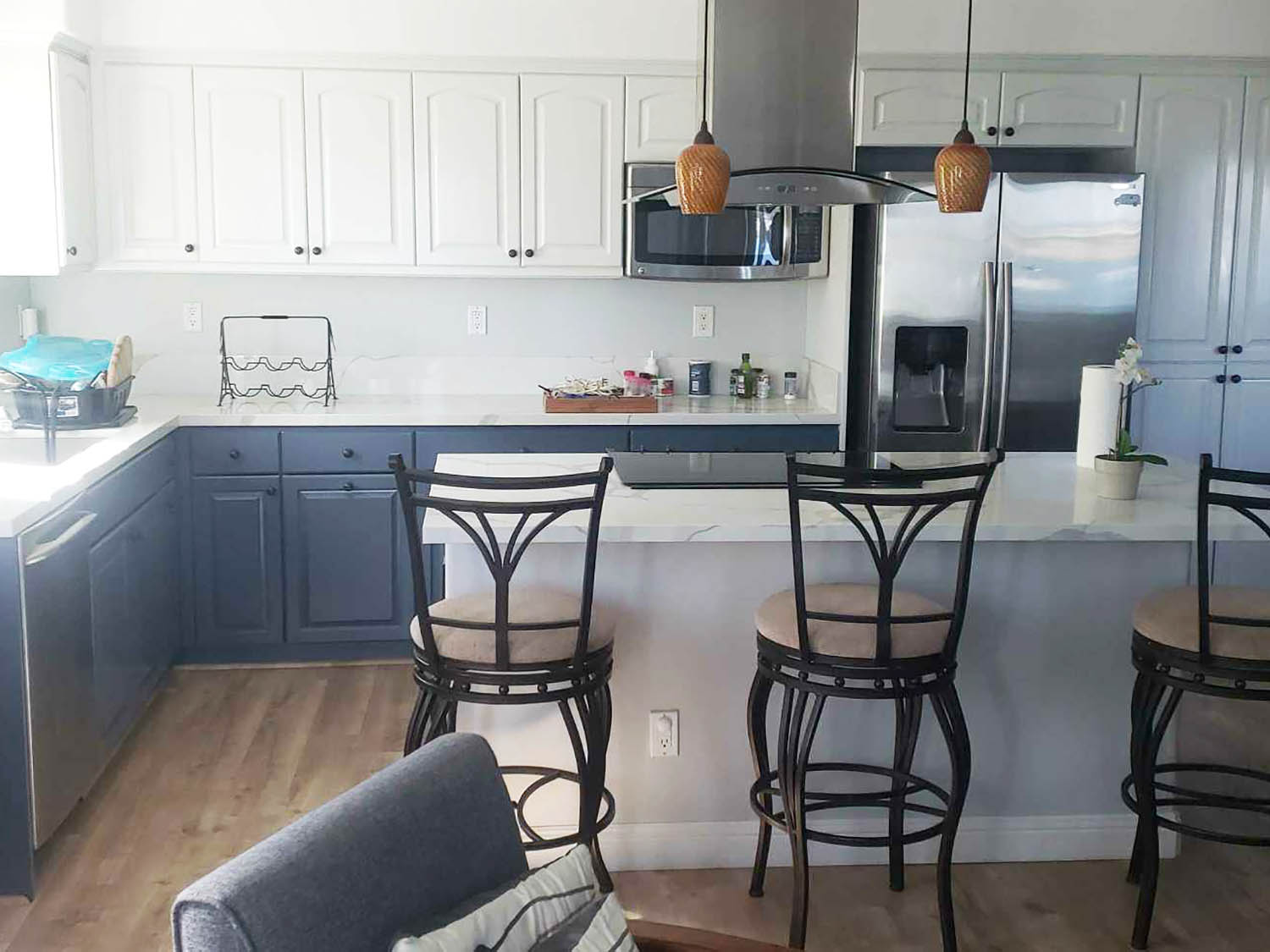 Let us fix the damage to your drywall!

Do you have an unsightly hole in your wall, or other types of damage to your drywalls? Did you have an electrician or a plumber do some work in your home recently, and now there are holes in the walls? We understand how frustrating it can be as a homeowner when an electrician or plumber comes into your house, fixes the pipe, and then leaves you with holes in the walls and/or ceiling. We know the feeling, so we do nothing else but patch and close up the holes and cracks in your home.
We will fix the drywall area and match the paint so that way your home looks good as new. Let us know what the repair work is, and we'll get your home all squared away.
Adding personality and interest to the ceilings in your home!
Do you have one of the old popcorn ceilings, and now you are trying to update the look of your house? Or are you just trying to add some color to the home after you've added new light fixtures or a ceiling fan? Whatever needs you may have, we can help you to paint/fix your ceiling so it matches the rest of your room. We can also add an accent color to your ceiling so it really makes the home shine.
Call us for a FREE consultation to see how we can assist you with all of your home ceiling needs.
Add some character to your house with an accent wall!

Accent walls are a great way to add that special look to your room. Adding a color accent to your living room, or one of your bedrooms can add character to that room. You can either choose a flat color for the whole wall, or you can add a special design to a family member's room to match their personality. Your home should be an expression of you, so your accent wall should be just as special.
Whether you would like to add a splash of color, a special design, wall paper, or other elements to accent your walls, let us help you make your room stand out.
Make your garage the place to be in the home with an epoxy floor!

We offer the highest-end commercial-grade garage floor epoxy coatings on the market today. Let us show you what your garage can become…we'll make it the envy of all of your neighbors. The result is a garage where the family can spend time together. Remember your new garage can be converted to a home office, home gym, man cave or she-shed. Contact us today to get your epoxy floor upgrade.
Why Choose Us?
No matter what your interior home project entails, you can trust the professionals at Rogelio Llamas Painting to take care of your home just like it is ours. Our goal is to make sure that we take care of our clients and make their home feel just right. If you would like a free consultation, call us today!